About Fleur-Flowers
In 1988, working my way through Cal Poly, I stood on the street corners of San Luis Obispo, arranging and selling flowers for a local company. There I fell in love with the art of flowers. Later, my travels to Europe inspired me to take an organic slant on floral design. In 2004 I established my own company, and today my team and I create flowers for everyday, birthdays, anniversaries, engagements, showers, loss, holiday parties, and — most of all — weddings.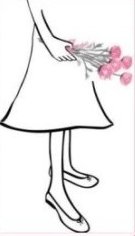 Fleur's style can be described as organic, whimsical, romantic or rustic. We have no "signature style" but instead we extract our clients' and brides' and grooms' personalities to create their vision for their designs. We source as many flowers as we can locally. We create flowers in all budgets from $500 through $10,000. No wedding is average however an average floral budget ranges from $1500 to $2500.
Tami's natural ability with flowers includes cut flower design and raising award-winning garden roses. Tami studied interior design at Cal Poly and graduated with a BS in '91. Fleur is the compilation of European flower shop concepts and ideas Tami collected over 30 years. Fleur's studio is in beautiful downtown San Luis Obispo. We service the counties of SLO, SB, Monterey, Fresno, LA, and SF, anywhere in the US, actually, even abroad!
Fleur's approach can be described as "natural" or "organic." We use paper lanterns, umbrellas and string lights, structural floral and non-floral components to create a whimsical, romantic or vintage mood. Our multiple meetings and personal service are designed around the customer's wants and needs.
Fleur designs flowers for everyday, and any special affair such as baby showers, anniversary parties, tea parties and rehearsal dinners.
The idea of Fleur is Tami's translation for European style market flowers; but the innovative efforts that have been put into this flowering business concept have resulted in so much more. We put our heart and soul into every individual design and consultation, and look forward to working with you!
Some of our Clients Said ...
My bouquet was FANTASTIC! You got it and executed! A million thanks for that and the lovely arrangements. No regrets! Pics to come.
Tami of Fleur dotted every I and crossed every T — being the MOB for a daughter who lived 3000 miles away, we did everything over Skype. I was the local, and Tami worked extremely well with me and my daughter. The flowers were stellar, simple where it needed to be and WOW just in the right place. I'm happy, and furthermore our daughter was too.
Tami was SO amazing!! Not only is she extremely sweet and super-nice, she is very talented at what she does! My exact dream that I had envisioned in my head for flowers came out at my wedding with only one meeting with her!! She nailed it! She was on time, super-accommodating, friendly, and warm. And the flowers were beautiful! Everyone loved them and her!!
This is customer service at its finest!! Tami at Fleur was fun, bright, and very, very helpful. She was creative and knowledgeable, and really helped us solidify our concept of what we wanted our reception to be. Even at the last moment when we changed our entire plan 180 degrees, she jumped right in and got it all taken care of with NO problems! We had a very limited budget to work with and the quantity – and quality – of the flowers were more than we could have hoped for. You really get a lot for your money!
Accolades

Wedding Wire's Bride's Choice Award. Wedding Wire is the largest wedding resource and review site, and Bride's Choice designates the top five percent of wedding professionals within the Wedding Wire Network who demonstrate excellence in quality, service, responsiveness and professionalism.
Who's Who clientele include — Michael Bolton, Anne Hearst, Legion Films, and Real Housewives of Orange County on NBC.

Fleur-Flowers is the official florist sponsor of Big Brothers Big Sisters of San Luis Obispo County.
Fleur-Flowers is an official sponsor of Sinsheimer Elementary School.